server issues now seem to be a thing of the past – thank goodness. when i first realized there was a problem last wednesday night, i was frustrated. tried to convince myself that some quiet time would be nice.
it didn't work.
i missed you.
in cleaning out during my forced electronic exile, i found my old smocking machine, gave her a dab of wd-40, and rolled a piece of batiste through (breaking only 42 needles in the process and inventing more than a few new cuss words). a former jeanne taught smocking and enjoyed smocking clothes for the chiclets.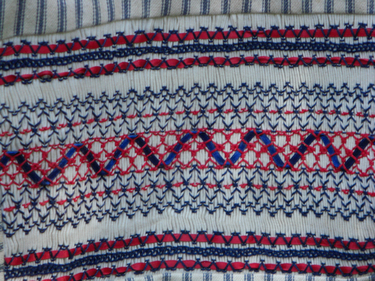 being a bag lady then and now, i pieced the salvageable ticking fabric from grandmother's clothespin bag around the smocked panel and created a little tote.