allergies have slowed me down to the speed of cold molasses, but help's on the way thanks to laney. if you haven't already, go see her alaska quilt project. be sure to click on the category so you'll get the full story.
came to counterpane today – picked up new laundry room cabinets on the way in. ripped out the old ones and have set one new one in place. we'll (somehow) get the other 2 in tomorrow before we leave to head home, then will get home just in time to unload hubbie and pick up daughter and head further down the road for a week of mother/daughter time. because we have no internet in the condo, posts will likely be sporadic, dependent on being able to find internet cafes/wi-fi spots.
i am taking autoquiltography one with me, though, and will have much to show for it. on the way home from supper, i stopped and collected my first bag of red clay in preparation for autoquiltography two.
since i have no photos to document my progress, thought i'd share another few pieces from my quilting heritage. this is a quilt grandmother made for my doll – she made one just like it for my sister and a cousin, too. of course being as smart as she was talented, she changed one row in each doll quilt so we would be able to tell them apart.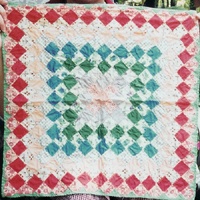 until we reunioned in my backyard and snapped these pictures, none of us knew that our doll quilts were actually blocks from a quilt she made for one of her sons.
all those tiny little pieces. painstakingly cut, arranged, then stitched together into something bigger.
something much, much bigger.
Technorati Tags:
family, quilt, sewing, Southern