i find myself uncomfortably off balance of late. heavy demands and weeks of living with crashed computer have been punctuated with bits of exciting derringdo, though, and to catch a glimpse of things percolating that don't involve needle and thread, visit my other blog, LifeInTheAlong.com.
over the next few months i'll be popping in and out erratically as i move from this house we've lived in for 12 years to one a scant 3 miles away. moving is not for sissies, as you know. it's time-consuming, backbreaking work that allows me opportunities to practice remaining grounded in the moment, patience, and decision-making skills as i sift and sort through all that has accumulated (despite my best efforts) (sporadic though they may be) over the past 12 years.
and right smack in the middle of the holidays. yes, there'll opportunities galore.
but on the cloth side of things, just this weekend i picked up an old familiar head-scratcher: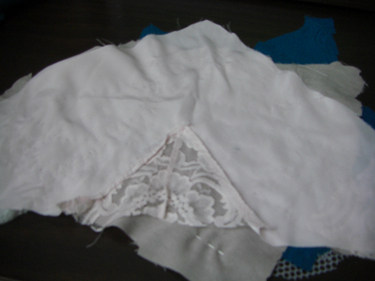 still perplexed about what to do, i started snipping, and when i cut that damn lace out, bam. breakthrough. relief: tenacity (even if drawn-out tenacity) wins again.